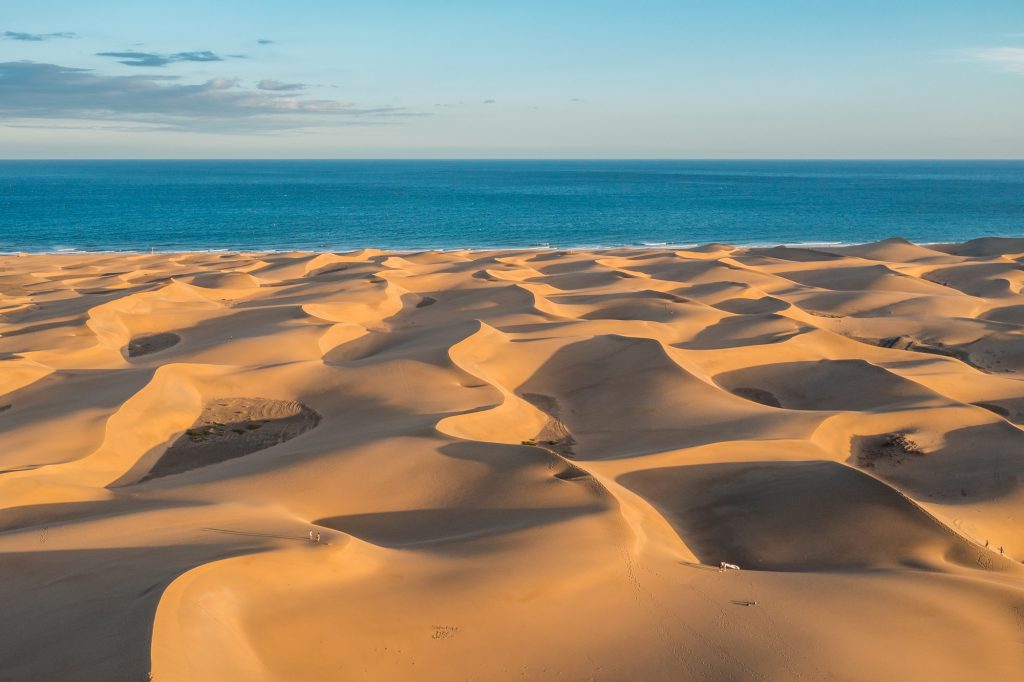 Fancy stretching your legs with a unique blend of nature and adventure? You're not alone, mate! Like many curious explorers out there, the allure of Maspalomas Beach and Sand Dunes in Gran Canaria had me instantly hooked.
After some serious dig-through – did you know those dunes spread all over a whopping 1000 acres! – I'm here to throw light on this stunning natural spectacle. In this blog, we'll chat about its formation, how to make the most of your visit, nearby attractions and cosy places to rest your head.
So buckle up for an unforgettable journey into one of Spain's hidden treasures.
The Formation of Maspalomas Dunes
The sand in the Maspalomas Dunes has a cool story. It came from the bottom of the ocean during the last ice age! Yes, it's true. Since then, winds have been moving this sand from east to west at a rate of 2 to 5 meters per year.
Wind blows sand towards special shrubs we call El Balancón, found only here in Canary Islands.
These dunes are never still, they're always on the move. But with all that movement comes rules so we don't harm them or their plants like Traganum moquinii. We can only walk on dedicated paths which cover a distance of 8 kilometers across these fine golden sands.
The dunes are getting better since people were not here during coronavirus lockdown too! They got some rest and improved themselves while we were away.
Next to these amazing dunes is something you must see – The Maspalomas Lighthouse! Standing tall at 56 meters high and looking over Atlantic Ocean, this lighthouse is still active even today after all these years.
Exploring the Maspalomas Dunes
Discover the beauty of Maspalomas Dunes by following designated paths. Experience an unforgettable camel ride through these eye-catching sand formations. Marvel at the unique landscape that transports you to another world.
Make your journey memorable, exploring these golden dunes on Gran Canaria's south coast!
Walking on the designated paths
I love walking on the designated paths at Maspalomas Dunes. It's the only way you are allowed to explore this gem. The paths, stretching over 8 kilometers, let you take in all the sights and sounds.
Camel rides
You can hop on a camel to see the Maspalomas Dunes. It's fun and different. The camels are calm, so kids can ride too. Each ride lasts around 30 minutes. You feel like you're in the Sahara Desert as you move along the fine golden sand.
The Maspalomas Beach Experience
Maspalomas Beach is a joy to visit. With its fine golden sand, it stretches 2,700 meters long and is 75 meters wide. You feel the warm sun on your skin as you walk on the beach. The view of the clear Atlantic Ocean waves rolling in makes you feel like you are in paradise.
Water sports happen at Maspalomas Beach too! This spot is good for surfing and paddle boarding. And if you love to swim, there's room for that as well.
Some people also enjoy being bare at this beach! Near Playa del Ingles, many visitors choose not to wear clothes when they bathe or lie under the sun's rays. It's an interesting part of the fun here at Maspalomas beach.
Attractions Near Maspalomas Beach
Discover the historic Maspalomas Lighthouse standing tall against the ocean backdrop and immerse yourself in a birdwatching adventure, spotting species like kingfishers, curlews, and egrets.
There's so much yet to explore!
Maspalomas Lighthouse
Maspalomas Lighthouse is an important place to visit. It stands tall at 56 meters and guides boats from Europe, Africa, and America. Built in 1890, it took 28 years to make this big light tower.
Now, the lighthouse is still active today. You will find it near the Maspalomas Sand Dunes and Beach in Gran Canaria. When you go there, you can see why it's a major point of interest on Canary Islands.
Birdwatching
Birdwatching at Maspalomas is a real treat. The sand dunes and lagoon are home to many different bird types. You can spot kingfishers, curlews, and egrets among others. These birds have made the dunes their home ever since it became a nature reserve in 1987.
They nest at the Maspalomas Lagoon which sits snug between the dunes. Near the iconic Maspalomas Lighthouse is another great spot for birdwatching. Bring your binoculars!
How to Reach Maspalomas Beach and the Sand Dunes
Getting to Maspalomas Beach and the Sand Dunes in Gran Canaria is simple. Here are the ways you can get there:
If you're driving, head south towards Playa del Ingles or Maspalomas. Parking can be tough, so aim to get there early.
Bus services are available for those without cars. Search for bus lines that go to Maspalomas.
Some flights land directly at Maspalomas. Check if your airline operates flights to this place.
If you're nearby, you can walk towards the dunes from either Playa del Ingles or Maspalomas.
Book a tour that includes a visit to the Maspalomas dunes as part of its itinerary.
Tips for Visiting the Maspalomas Dunes and Beach
I want to share some tips for visiting the Maspalomas Dunes and Beach.
Follow the designated paths in the dunes.
Keep an eye on your things at the beach, especially near Playa del Ingles.
Try taking a camel ride.
Visit the active Maspalomas Lighthouse.
The birdwatchers will have fun watching diverse African fauna.
Respect nature as you are visiting a Nature Reserve.
Take plenty of water, it can get hot in the dunes.
Book accommodation close to Maspalomas for comfort.
Remember to pack sunscreen and hats for protection against the sun.
Enjoy nature but do not litter around; keep Maspalomas clean.
Nudist Beach at Maspalomas
The Nudist Beach at Maspalomas is a sunny spot in Gran Canaria's south side. It belongs to the SAN BARTOLOMÉ DE TIRAJANA area. This beach is loved for its calm waters. There are no strong currents, so it's safe for swimming.
There are parts of this beach where you can be naked and others where you need to wear clothes. You can tell which part you are in by looking for kiosk numbers. These signs show if it's a naturist zone or not.
You can rent sunbeds and umbrellas here too. They cost 2.5 euros each item but sometimes they're not there because of contract issues or other reasons. While here, make sure to enjoy food and drinks from the kiosks as well!
Accommodation Options Near Maspalomas
Whilst visiting Maspalomas, you'll find a variety of splendid accommodation options ranging from luxury resorts to charming holiday cottages, each offering its unique style and comfort.
Discover more about where to stay and make your visit unforgettable!
LIVVO Hotels Dunagolf Suites
LIVVO Hotels Dunagolf Suites is a great place to stay near Maspalomas Beach. This hotel has rooms for all types of visitors. It sits close to the sand dunes, which are always moving! The dunes travel from east to west every year.
Isn't that amazing? From this hotel, you can start your adventure on the beach and in the dunes any time you wish!
Seaside Palm Beach Hotel
Seaside Palm Beach Hotel is close to Maspalomas Beach and Sand Dunes. I love it here! The rooms are nice and the food is yummy too. You can walk easily to see the Maspalomas Lighthouse from this hotel.
This part of the beach has a nudist area as well, which some people like a lot. And one more thing – you can go straight from the hotel to trek on sand dunes!
Kumara Serenoa by Lopesan Hotels
Kumara Serenoa by Lopesan Hotels is a great place to stay. It's so close to the Maspalomas Sand Dunes! This hotel gives you many choices of rooms to fit your needs. The location makes it easy for you to get out and explore the dunes and nearby beach.
This hotel isn't just about location, it has cool features too. You can eat at their top-class restaurant or chill in one of their leisure areas. If you want comfort near the Maspalomas Sand Dunes and Beach, choose Kumara Serenoa by Lopesan Hotels! Trust me, it will make your trip even better.
FAQs
1. What can we expect when walking on the Maspalomas dunes?
Walking on the Maspalomas dunes, you might see migrating birds at La Charca and enjoy a vast view from Dunas Mirador. A surveillance team is present to ensure safety.
2. Can I do nudism at Playa de Maspalomas?
Yes, Playa de Maspalomas welcomes nudism and has naturist resorts for those who want this kind of lifestyle. Lifeguards are there too for safety.
3. Where are suitable places to stay in Gran Canaria near the Dunes?
Best places to stay include Santa Catalina Hotel in Las Palmas or Lopesan Costa Meloneras Resort & Spa close by Meloneras beach.
4. Are there any excursions available in Maspalomas Sand Dunes area?
Yes! You can go on a Dolphin Watching Cruise, Half-Day Luxury Catamaran Cruise with Food or explore natural spots like Roque Nublo and Teror Old Town through best-rated excursions.
5. What else is there to do around Maspalomas Sand Dunes?
Apart from hiking on sand dunes, you could also visit Faro de Maspaloma's lighthouse or try out wind sports such as surfing and kitesurfing at schools nearby.
6. Is the type of sand unique at Punta de Maspaloma's beach?
Yes! The sand type of Punta de Maspaloma's beach comes from a natural dune reserve which makes it one-of-a-kind.